LOS ANGELES – Actress Sarah Jessica Parker has introduced a new outdoor collection in collaboration with designers Robert and Cortney Novogratz and fashion icon George Malkemus.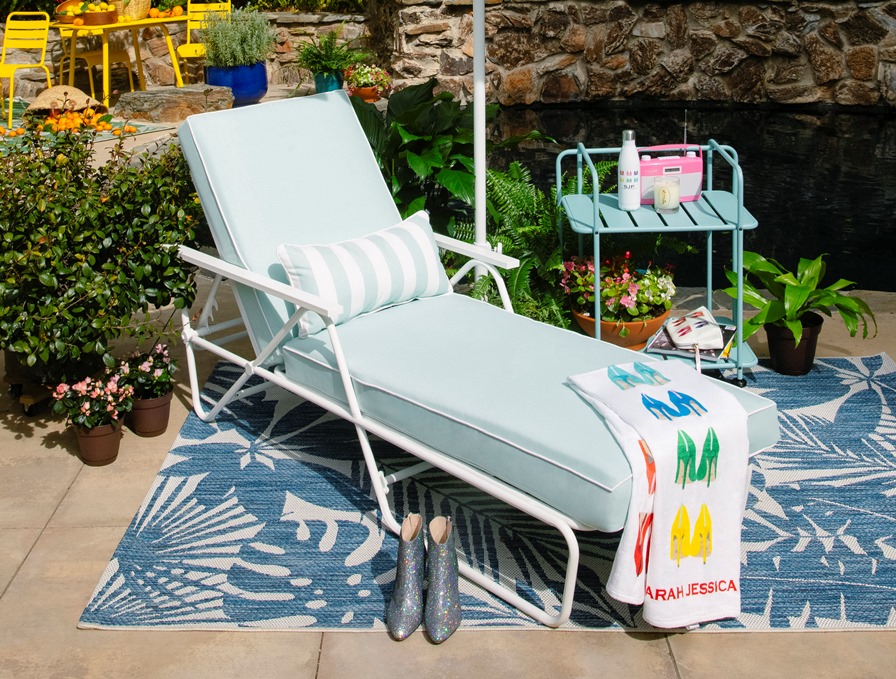 "We embrace the joie de vivre that The Novogratz's bring to everything they do, and we're excited to be joining them this spring," said Sarah Jessica Parker and George Malkemus. "SJP Collection and The Novogratz reflect our love of color, vintage style and, most importantly these days, summer fun."
An ode to retro design, Parker said the collection features pastel lawn chairs, lots of stripes and happy prints, outdoor umbrellas with fashionable scalloped edges and rolling bar carts. Key pieces include the Connie outdoor chaise lounge, which retails for $529; the Priscilla folding chair which retails for $119; and the Penelope indoor/outdoor cart which also retails for $119.
"This collaboration makes sense on so many levels because Sarah Jessica and I share so many things," said Cortney Novogratz. "We are both West Villagers raising kids in NYC; we both love running a design business and have discovered a similar sensibility in our design aesthetic and entrepreneurial spirit. We are not afraid of color; we embrace and promote it in an energetic way."
The outdoor collection is available exclusively at www.shopthenovogratz.com and at The Novogratz pop-up shop in Los Angeles, which recently opened on Abbott Kinney Boulevard.
"SJP and The Novogratz share a contemporary flair and a lot of style," said John Frierson, Novogratz brand president. "More importantly, the two share passionate, engaged communities that cherish their personal connection to the people, the style and the brand. I'm sure there will be a lot of excitement and inspiration to come out of this connection."
The Novogratz's said they are delighted to have Sarah Jessica and George as new brand collaborators and are thrilled to share this fresh new take on fashionable summer furniture.
Parker is also known for her SJP Shoe Collection, which started as a fashion brand in 2014, and offers shoes that are handmade in Italy by third- and fourth-generation shoemakers. As an ode to the new partnership, Parker has added a beach towel and a water bottle covered in colorful shoes to her collection.