DETROIT – Floyd, a direct-to-consumer furniture manufacturing company, has launched a new circular online marketplace called Full Cycle that will offer used and imperfect Floyd furniture to consumers nationwide.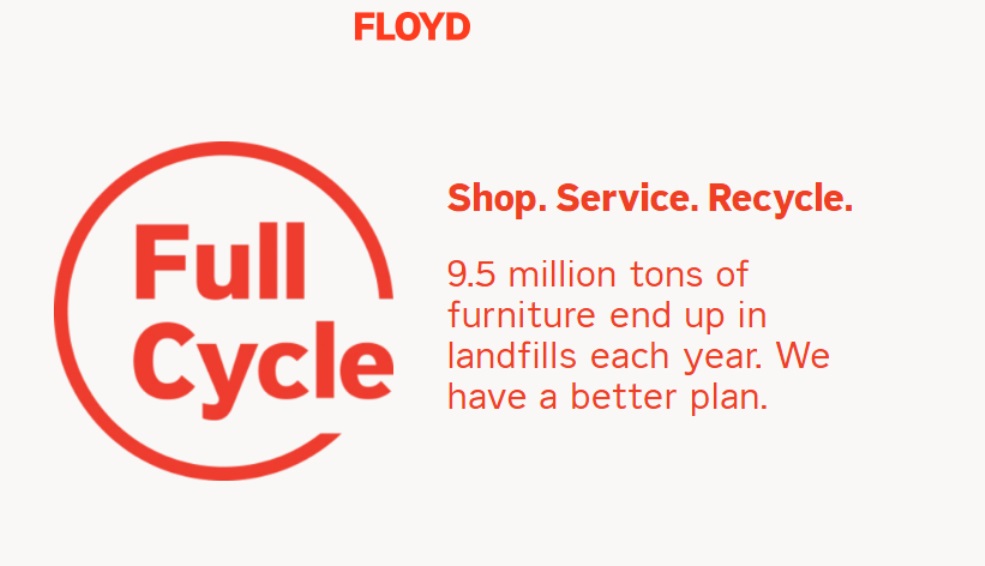 "This idea goes back to when we first started the company as a reaction to the disposability culture and the millions of tons of furniture that end up in landfills each year," said Kyle Hoff, Floyd co-founder. "We wanted to offer this sort of second life for the product and started thinking about the returns and the imperfect product, giving it a new life and a home."
Hoff said this is similar to something Floyd has done in the past in Detroit where it had what it called a "Shed Sale" that was wildly popular. Hoff and co-founder Alex O'Dell wanted to scale that idea up to offer gently used and imperfect items to more customers across the country.
As a part of Full Cycle, the company will now refurbish used and imperfect products to ensure that the Floyd pieces will most likely never end up in a landfill, according to Hoff.
The team had to completely redesign their reverse logistics strategy, according to Hoff, and they are now offering in-home pick up for returns, which are then dispersed to warehouses throughout the U.S. to be made available for resale.
"We will be collecting product more regionally," Hoff added. "For example, for customers in San Francisco, the product will go to a local facility to be documented and photographed and then sold regionally to someone in that area. This also helps to limit the carbon footprint by only transporting items within a more limited geographic area."
All factory, used and returned products have been inspected and graded at Floyd's fulfillment center and clearly marked for damage, and they will be discounted up to 50%. At this pricing, the company hopes to also increase the accessibility of high-design, high-quality products to a wider audience.
"Since Floyd has a limited number of SKU, We have a lot of redundant and serviceable parts and ways to combine them, so that offers us the ability to collect and rearrange items into different setss," Hoff said.
Hoff and O'Dell were also inspired by Patagonia's Worn Wear program, and they hope other home furnishing companies will consider offering a program similar to Full Cycle and look to find ways to create a product that people will keep.
"Our main focus is to create furniture that is quality-made and also accessible, so this new program should allow us to open up the audience a bit," Hoff said. "We will learn from the program as it continues to evolve and grow over time."