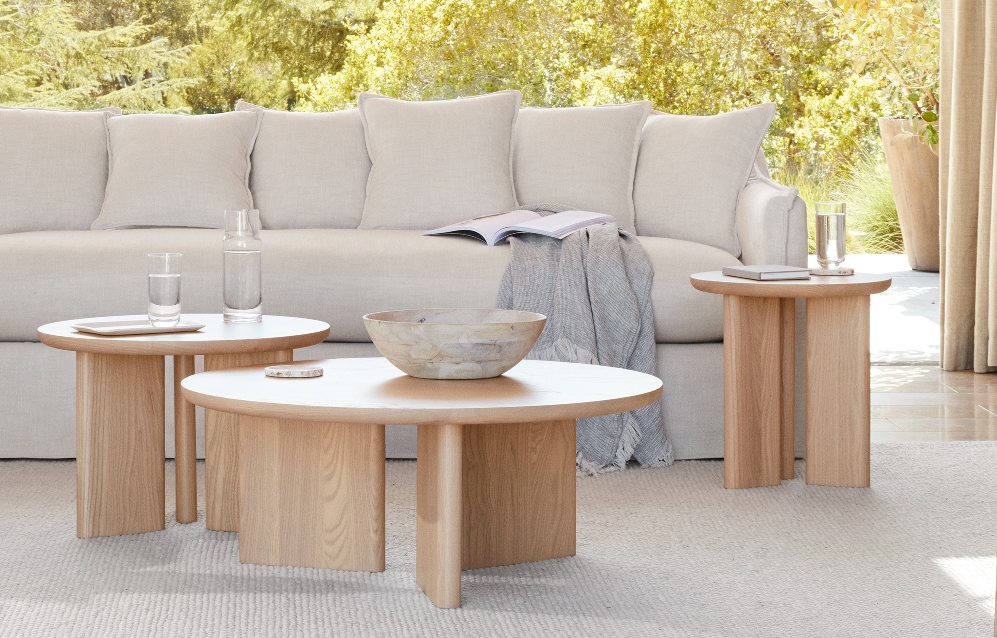 NEW YORK – Direct-to-consumer home furnishings company Maiden Home has launched its spring 2021 collection, which includes new pieces such as nesting tables and a wood platform sofa along with a new bench and stool.
The company said the new collection speaks to Californian sensibilities with relaxed and versatile designs and elevated textures. "As a native Californian, home was never defined by the four walls I lived within, natural beauty was a constant in my surroundings, and it remains a strong source of inspiration to me to this day," said Nidhi Kapur, Maiden Home founder. "Our Spring collection celebrates the beauty of natural materials in their simplest, truest form."
Kapur added that the new spring collection is about simple forms and earthy woods.
The company is offering the Morro nesting tables, its first-ever case goods piece, which retail for $2,925 for the three-table set handcrafted with solid ash wood. The tables can either nest together or stand-alone.
The Muir platform sofa, which retails for $3,850, is offered in finishes that include driftwood and ash, and it comes with a built-in side table to form a mixed-material piece.
The Reyes bench, which retails for $1,450 and the Reyes stool, which retails for $825, are crafted of solid ash wood with brass inset detailing along with an optional seat cushion upholstered in soft nubuck leather.
The new collection also marks a return to learning and exploration for the brand, according to Kapur, who said Maiden Home leaned on its artisan partners to create the wood-forward designs by using new techniques and finishes, and electing to have each piece finished by hand instead of a machine.
Along with the collection, Maiden Home is rolling out new upholstery materials as well: four colorways of Nubuck leather which include Tide, Sail, Fawn and Asphalt.
Every Maiden Home piece is digitally customizable, designed in New York City and handcrafted by artisans in North Carolina.