Lowe's Companies, Inc. yesterday reported net earnings of $978 million and diluted earnings per share (EPS) of $1.32 for the quarter ended January 29, 2021 compared to net earnings of $509 million and diluted EPS of $0.66 in the fourth quarter of 2019. Excluding charges in both periods related to the strategic review of certain operations, fourth quarter adjusted diluted EPS increased 41.5 percent to $1.33 from adjusted diluted EPS of $0.94 in the fourth quarter of 20191.
Total sales for the fourth quarter were $20.3 billion compared to $16.0 billion in the fourth quarter of 2019, and comparable sales increased 28.1 percent. Comparable sales for the U.S. home improvement business increased 28.6 percent for the fourth quarter.
In the fourth quarter, the Company invested over $100 million in COVID-related support of frontline hourly associates, bringing its total COVID-related associate financial support to more than $900 million for fiscal 2020. As a reflection of its commitment to supporting its associates and communities, Lowe's invested nearly $1.3 billion in COVID-related support for its associates, store safety and community pandemic relief in fiscal 2020.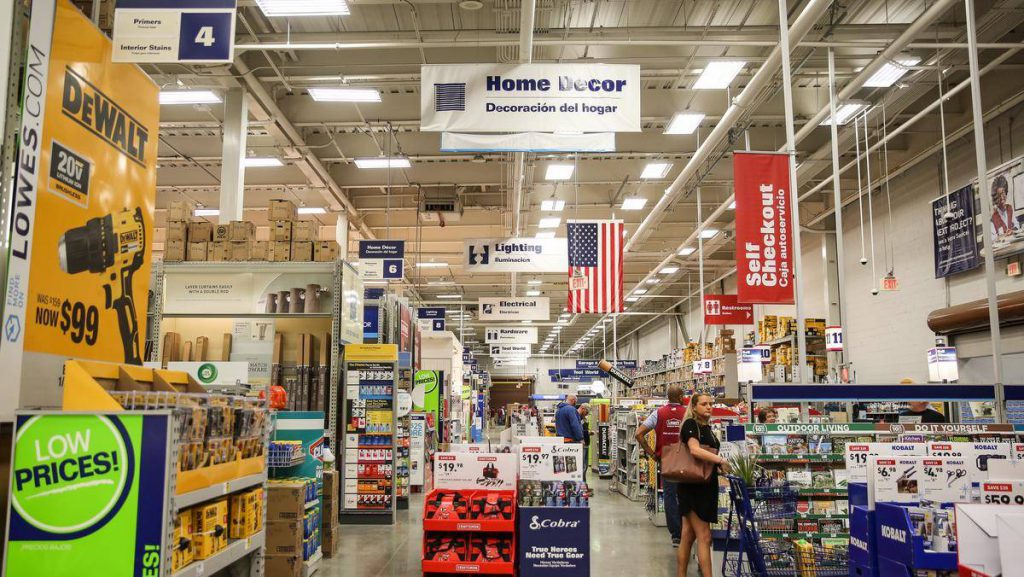 "Strong execution enabled us to meet broad-based demand driven by the continued consumer focus on the home, with growth over 16% in all merchandising departments, over 19% across all U.S. regions and 121% on Lowes.com. I would like to thank our front-line associates for their continued dedication to serving our customers and communities and supporting safety in our stores. I am pleased with our progress in 2020 as we generated nearly $90 billion in sales, with annual sales growth of over $17 billion, while also enhancing our operating efficiency. Looking ahead to 2021, we expect to grow market share and drive further operating margin expansion," commented Marvin R. Ellison, Lowe's president and CEO.
Capital Allocation
The Company repurchased 21.1 million shares for $3.4 billion during the quarter, and it paid $452 million in dividends. For the year, capital returns to shareholders totaled $6.7 billion, with $5.0 billion in share repurchases and $1.7 billion in dividends.
At quarter-end, the Company had $4.7 billion of cash and cash equivalents as well as $3.0 billion in undrawn capacity on its revolving credit facilities, which will be available for any unanticipated liquidity needs.
As of January 29, 2021, Lowe's operated 1,974 home improvement and hardware stores in the United States and Canada representing 208 million square feet of retail selling space, and it serviced approximately 230 dealer-owned stores.
A conference call to discuss fourth quarter 2020 operating results is scheduled for today, Wednesday, February 24, at 9:00 am ET. The conference call will be available by webcast and can be accessed by visiting Lowe's website at ir.lowes.com and clicking on Lowe's Fourth Quarter 2020 Earnings Conference Call Webcast. Supplemental slides will be available approximately 15 minutes prior to the start of the conference call. A replay of the call will be archived at ir.lowes.com.
Lowe's Business Outlook
The Company delivered very strong financial results in the fourth quarter of 2020, with continued sales momentum in February. The Company is reiterating the perspectives provided at the December 9, 2020 Investor Update, during which the Company presented its planning expectations for three potential scenarios for 2021 which assume modest mix-adjusted market contraction. In each of these scenarios, the Company expects to drive further market share gains and operating margin improvement. Additionally, consistent with expectations provided at the Investor Update, the Company is planning for $9 billion in share repurchases and $2 billion in capital expenditures in 2021.