Brazilian outdoor furniture maker Artefacto worked with designer Patricia Anastassiadis to design its new fall line with an emphasis on the transition between interiors and open-air outdoor spaces.
This is the fifth exclusive line that Anastassiadis has created for Artefacto, and it reflects a new focus on outdoor living. She used materials such as aluminum and Brazilian-certified teak wood in the collections since they are sustainable and result in long-lasting products.
The new collections are called Journey, In Natura and Naïve, which Anastassiadis said highlight the fluidity and motion of the outdoors. Key pieces include:
The Balanço Grano and Balanço Seed hanging chairs. The hand-woven bases combine with the nautical fabric to create a fusion between the contemporary and natural aesthetic.
The Chaise Long Mora lounge chair combines elegant framing with an ergonomic and curved cushion that embraces the form.
The Mesa de Centro Josef table features wood squares across the tabletop that are available in three colorways including shades of blue that resemble the ocean or the sky, completed with a white or black aluminum frame.
The Sofa Costa, which is available as a stand-alone chair, a loveseat, and a chaise lounge which can all be combined in various ways to create a welcoming outdoor conversation area.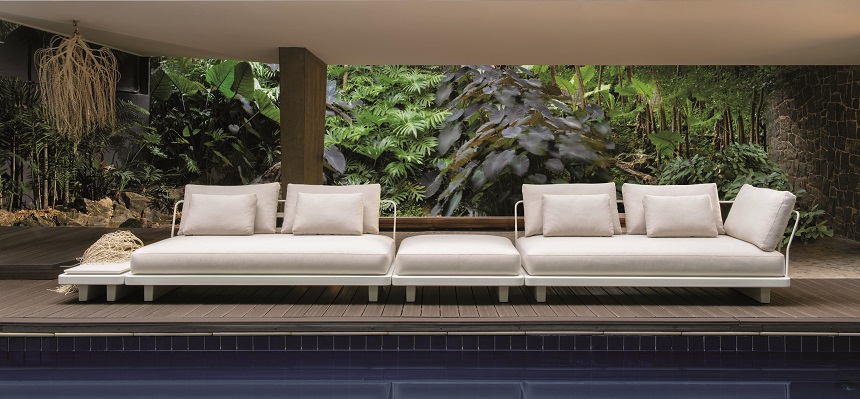 Luxury outdoor furniture company Artefacto started as a family company in 1976 under the direction of Albino Bacchi and is now continuing with the second generation under the leadership of his son, Paulo Bacchi.