As one of the popular niches for TikTok users, the interior design segment is continuing to grow in views, with #interiordesign garnering more than 5.9 billion views.
To see which of TikTok's most viewed interior design trends have made the biggest impact in consumers' homes this year, home insurance expert Money.co.uk analyzed Google searches for the first half of 2021.
With more than 104 million TikTok views, the style trend that has increased the most in popularity so far this year is Modern Farmhouse, with a 25% increase in Google searches from January to June.
Coming in right behind Modern Farmhouse is Mid-Century Modern, showing a 23% increase over the time period and totting up nearly 103 million views on TikTok.
Other style trends on the 10 most-viewed list with double-digit increases are Rustic Design, Vintage Design, Modern Design, Shabby Chic and Industrial Design.
Rounding out the 10 most-viewed TikTok style trends are Urban Design with a 9% increase; Eclectic, virtually flat with a 1% increase; and Art Deco, which actually decreased the number of views by 1% while still racking up nearly 35 million views.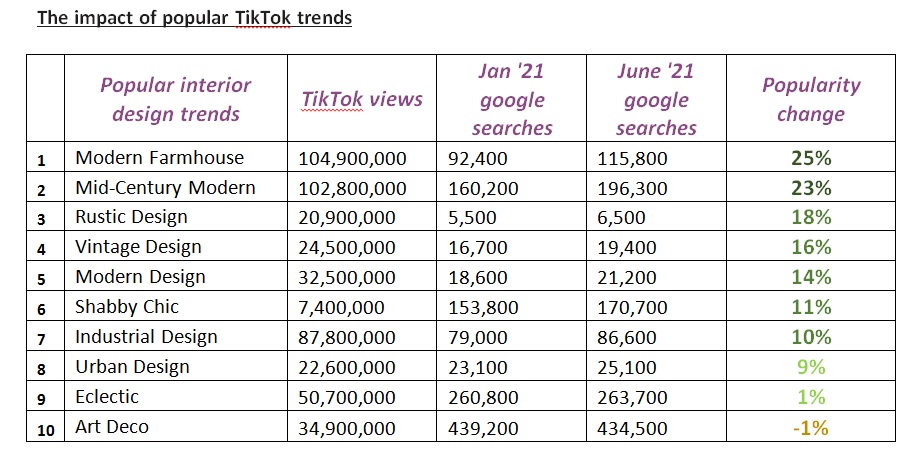 About the survey: Money.co.uk made a list of the most popular and well-known interior design trends using multiple online sources, like Adorable Home and Luxdeco. The company then analyzed each trend on TikTok to find the highest volume of views. It then input each trend into SEMrush to compare average monthly searches in January and June.