Home Depot's fourth-quarter earnings surged past investors' expectations as consumers poured more money into home improvement due to the pandemic and strength of the real estate market.
Chief Financial Officer Richard McPhail said that the retailer is not sure how long the pandemic will last and how that may influence consumer spending. He said if demand from the second half of last year continues, it would lead to flat to slightly positive same-store sales growth and an operating margin of at least 14% this year.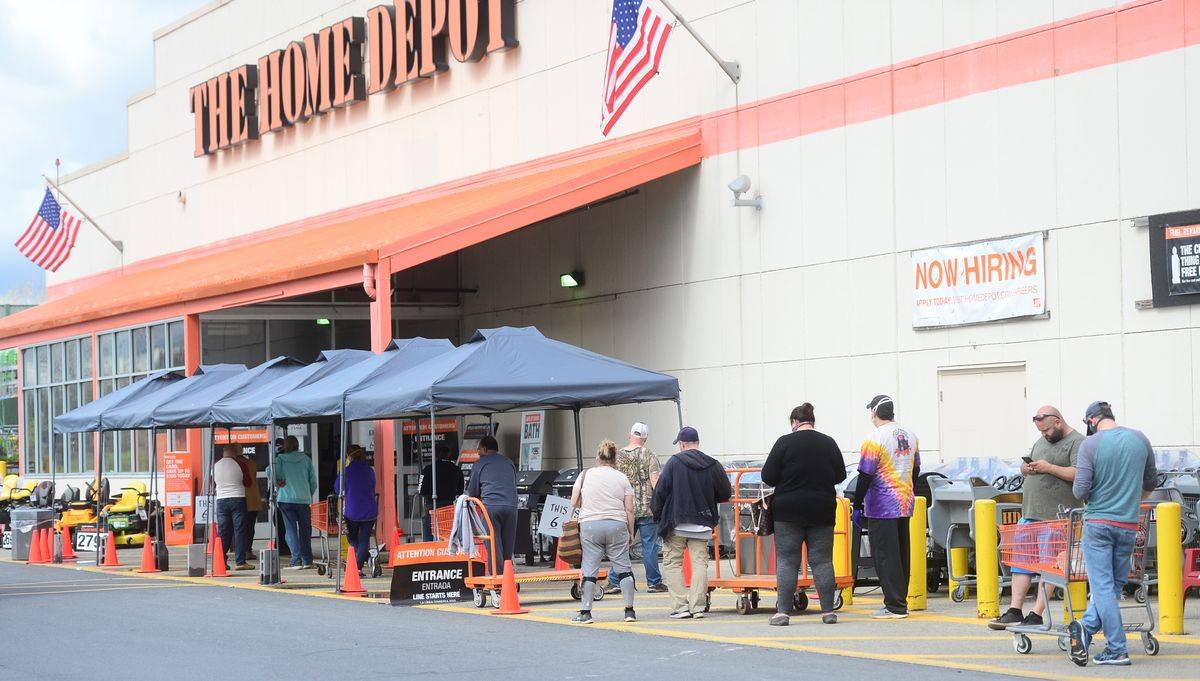 Here's what the company reported for the fiscal quarter ended Jan. 31 compared with what Wall Street was expecting, based on a survey of analysts by Refinitiv:
· Earnings per share: $2.65 vs. $2.62 expected
· Revenue: $32.26 billion vs. $30.73 billion expected
Home Depot's net income rose to $2.86 billion, or $2.65 per share, up from $2.48 billion, or $2.28 per share, a year earlier. Analysts surveyed by Refinitiv expected earnings per share of $2.62.
Net sales rose 25% to $32.26 billion from $25.78 billion a year ago, and outpacing estimates of $30.73 billion.
U.S. same-store sales jumped by 25%. Overall same-store sales grew by 24.5%, higher than the 19.2% growth that analysts expected, according to a StreetAccount survey. The growth is in line with what Home Depot reported during the second and third quarter, when it benefited from keeping doors open as an essential retailer.
The company tallied about $240 million in Covid-related operational costs in fiscal 2020, McPhail said. As long as the pandemic lasts, Home Depot expects about $250 million of Covid-related operating expenses on an annual basis to cover items like personal protective equipment for employees, additional cleaning and paid leave for employees who get sick.
DIY trends continue
About a year into the pandemic, Americans are still investing heavily in their homes, the company said. Customers bought supplies for do-it-yourself projects, gravitated toward new products like cordless tools and extended the outdoor season with patio furniture and grills in the fourth quarter, Home Depot Chief Operating Officer Ted Decker said on a call with analysts and investors. He said consumers also shopped early and spent more on holiday decor, as they sought some degree of normalcy.
Customers spent more when they visited the company's stores or its website. Home Depot said the value of a customer's average purchase rose nearly 11% to $75.69, from a year earlier. Sales per square foot jumped 24% to $528.01.
Many bought big-ticket items, such as appliances, vanities and vinyl plank flooring, Decker said. He said transactions of over $1,000 were up by about 23% year over year.
"We continue to benefit from heightened engagement from both new and existing customers," he said. "As our customers continue to spend more time at home, they're telling us the project lists are growing. After completing the project, we see many of our DIY customers take on additional and often times more complex projects with a renewed sense of confidence."
Digital sales increased about 83% in the fourth quarter compared with a year earlier, Home Depot CEO Craig Menear said. They grew about 86% for the full-year compared with the year prior, he said, with about 60% of those online orders fulfilled through the store.
He said by adding online workshops, Home Depot expanded its audience and got customers more engaged. It had an average of five in-store workshops per month prior to the pandemic. Now, he said, it has about 40 online livestreaming workshops per month.
Source:CNBC