London based Design Studio Duffy London has released Serenity, a new single-piece console table that appears to defy gravity, toying with visual perspectives in a playful three-dimensional trompe l'oeil. An invigorating addition to any hallway, concourse or living room.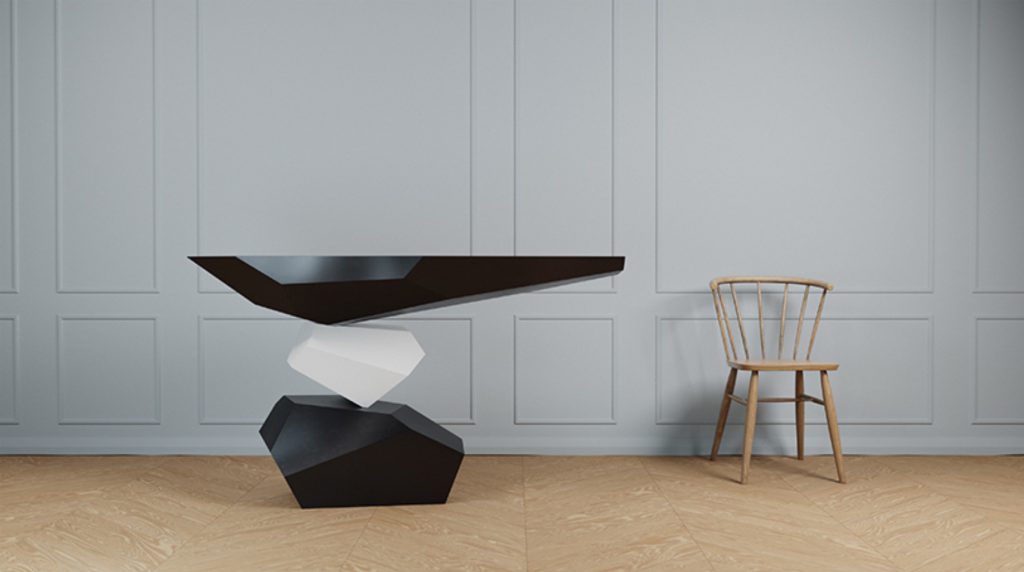 Inspired by Japanese rock gardens and cairn stones, Serenity invites contemplation and aims to create a sense of order from the disorder.
Vast geometric forms appear balanced one on top of the other to create a single, harmonious moment from an otherwise perilous and inevitable dance.
A table offering pause for thought and reflection, freshening the mind and imbuing its' immediate surrounds with a momentary sense of calm.
"I think that it is important to remind ourselves to have moments of stillness and quiet in our often-hectic day to day lives. Serenity offers a chance to take a moment of reflection, to block out the outside world, and to draw focus from the point of balance."
Joe Wonham, Designer at Duffy London
Serenity is formed from three distinct blocks, each one made of a powder-coated mild steel, or highly polished stainless steel to create a mirrored reflective surface. Serenity is offered in two finishes; matte and mirror.
The Serenity Console Table is limited to 20 editions. Bespoke pieces and larger commissions are available on request.
More detailed product information can be found here:
https://duffylondon.com/collections/furniture/tables/serenity/