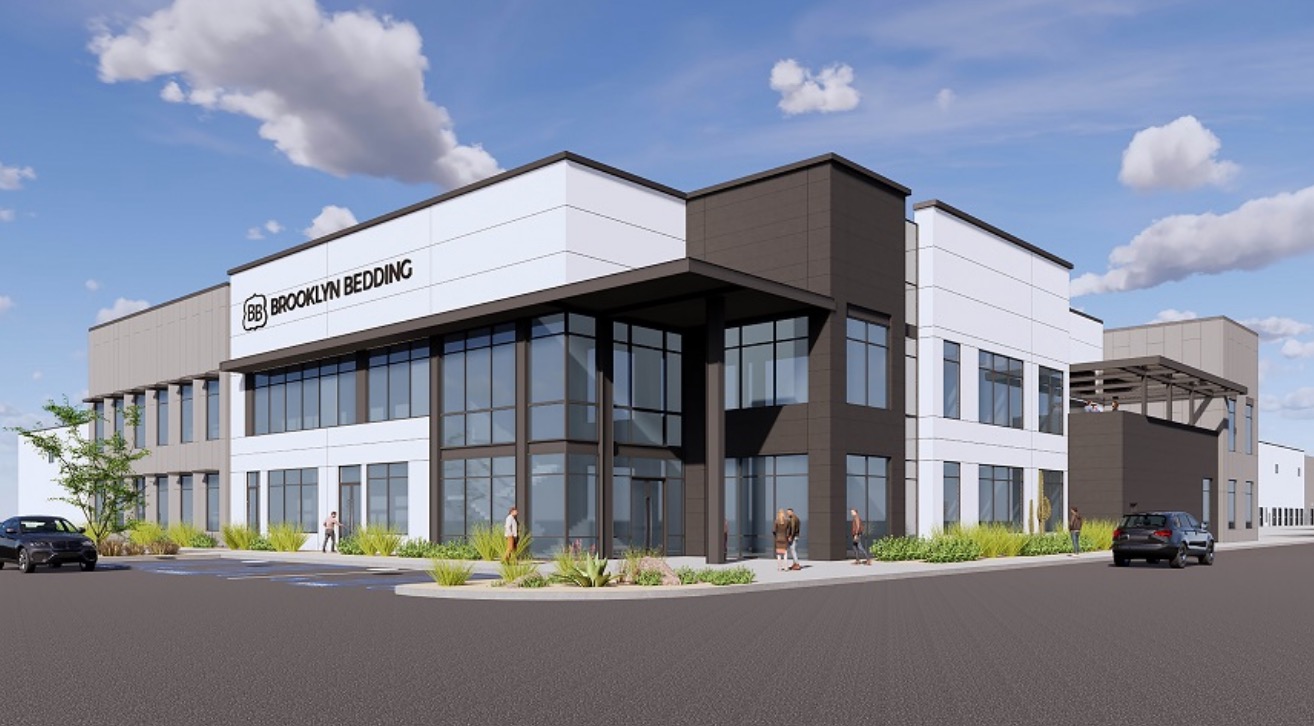 GLENDALE, Ariz. — Bedding manufacturer and retailer Brooklyn Bedding is investing more than $72 million to expand its U.S. manufacturing footprint with a new 648,165-square-foot factory located on nearly 43 acres in Glendale.
The new factory, scheduled to open in December, will triple the company's manufacturing capacity and merge Brooklyn Bedding's current factory and warehouse located in Phoenix.
The facility will house the company's headquarters and manufacturing and allow the company to be nearly completely vertically integrated. Upon completion, the company says it will add up to 150 employees over the next two years. Brooklyn Bedding currently employs more than 250 in the Phoenix area.
"Brooklyn Bedding has come a long way from the early days of selling overstock mattresses to now be in a position to triple mattress production," said John Merwin, owner and CEO. "Over the years, I've been asked to define our journey as an American-made brand.
"No one grows up thinking, 'I want to build mattresses for a living.' I read all the books. I went to all the seminars. Every expert said you're supposed to find your passion and pursue it. While I was trying to figure out what I should be doing with my life, I was building stuff and doing what I loved. I finally woke up to the fact that that's success," he said, adding, "I try not to lose sight of the fact that I'm building mattresses for people who are waking up to their own potential every day, who are working and dreaming, too."
The company will be holding a groundbreaking event with state and local officials on Wednesday, Feb. 17 at the site located at West Bethany Home and 52nd Avenue.
Founded in 1995, family-owned Brooklyn Bedding got its start with Rob Merwin delivering mattresses to consumers' homes in a refurbished Wonder Bread truck. Later joined by his brother John Merwin, the duo developed a direct-to-consumer retail model.
In 2008, John Merwin sold his first roll-packed mattress on Amazon. By 2015, Brooklyn Bedding developed and built a 150,000-square foot factory, and four years later, acquired a secondary warehouse.
Brydant Real Estate, the same company that Brooklyn Bedding worked with to develop its factory in 2015, is leading the project with Alston Construction and architectural firm Ware Malcomb for design.
"Our relationship with Brooklyn Bedding was founded on John Merwin's passion to be the best, coupled with his uncompromising integrity," said Scott Backes, president of Brydant Real Estate. "At the end of the day, that's a vision we not only appreciate, but also live by. As a real estate consultant and developer, I get excited about working closely with a partner who is truly a pioneer. We've created extraordinary synergy and value over the years because we both know what it takes to build from the ground up."
Pending completion of the new factory, Brooklyn Bedding's operations will continue at its manufacturing and warehouse facilities in Phoenix.
"We are incredibly pleased to not only welcome Brooklyn Bedding to Glendale, but also thank them for choosing Glendale for their headquarters and manufacturing," said Glendale Mayor Jerry Weiers. "With this significant investment, Brooklyn Bedding brings new life and spurs revitalization in Glendale's Grand Avenue Industrial District with new employment opportunities for residents. Glendale looks forward to growing with Brooklyn Bedding as they continue to lead in their industry."
In addition to its manufacturing, the company operates 32 Brooklyn Bedding stores.