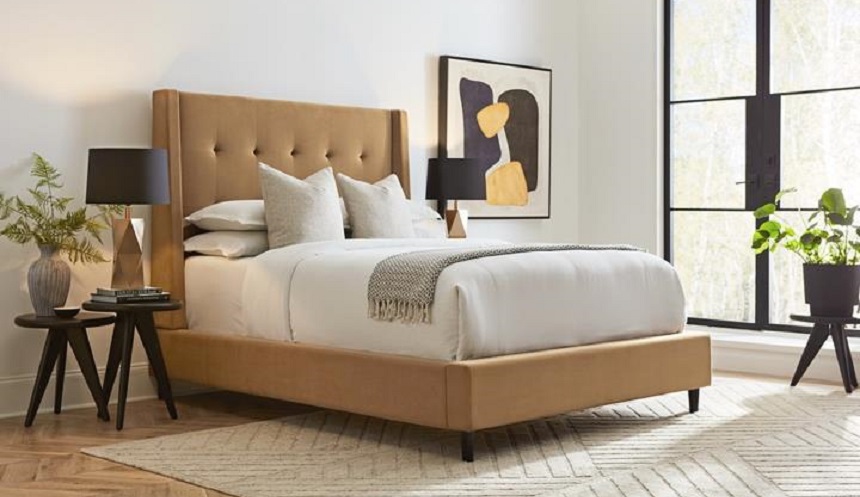 WINNEPEG, Manitoba — Palliser Furniture is exiting much of its case goods business for the U.S. market due to a host of challenges in developing and shipping product to the U.S. market, particularly for smaller accounts.
The company said it will continue to produce and ship four or five case goods groups to larger retail accounts container direct from Asia as long as demand warrants. Some of these offer bedroom and dining, while others have bedroom only.
"We won't develop new product for them in the near future, so eventually it will go away. That will continue to flow and produce until there is no more demand," said K.C. Greenwald, sales manager for the Southeast U.S., of these core groups.
Greenwald did note that the company also will produce nine upholstered beds and headboards in Mexico, a line it launched in October 2020 that ties in well with its custom upholstery program featuring 150 fabrics and 120 leathers. In this program, a complete queen bed starts at $699 in fabric and tops out at $1,999 for a complete king bed in leather.
However, the company's primary focus in the U.S. will be on stationary and motion upholstery moving forward, including product it produces at its factories in Canada and Mexico.
It is selling off remaining inventory on another six to eight case goods groups that are being warehoused domestically, primarily in Laredo, Texas, and Hickory, N.C. The plan is to sell all that inventory, including the remaining occasional, much of which has been developed and merchandised to complement both stationary and motion upholstery.
The company also will no longer sell case goods in the U.S. as part of its licensed partnership with Canadian designer and TV personality Sarah Richardson. Those collections, however, will continue to be sold in Canada, where Richardson is a well-known celebrity.
Greenwald said the decision related to the challenges during the pandemic, both in developing product and ultimately flowing those goods to smaller accounts.
"There are two parts to it: One is the product development cycle, and with COVID that has become very difficult in the Far East. … When we develop case goods, we want it to work with our upholstery," he said during a Zoom call of the challenges getting the details and intricacies right. "From a product development standpoint, it is a challenge."
Secondly, he said, it has been a challenge flowing goods during the pandemic, particularly to smaller accounts that aren't ordering full or mixed containers.
"For us to flow product well, that was really challenging, and we didn't want to hurt our customers," he said.
While he estimated case goods collectively represent only about 10% to 15% of Palliser's overall volume, the change is dramatic for a company that has a long history in the case goods business dating back to its start in 1944.
Palliser continued to produce — and later began to import — case goods for many years, ultimately establishing itself as a contemporary style leader in the category.
Around 2006, Roger Friesen, then a senior vice president at Palliser, led the purchase of Palliser's import division and formed Casana Furniture, an independently operated company that specialized in mid-priced largely transitional and contemporary bedroom and dining room furniture.
Around the summer of 2017, Palliser acquired Casana, which once again brought case goods to Palliser's product line. Today, four-piece bedrooms retail from about $1,299 to $1,499.
This acquisition was largely aimed at developing occasional groups alongside its stationary and motion upholstery groups. But as Greenwald noted, the process of developing these groups to coordinate with upholstery became a challenge, particularly during the pandemic.
While the company may re-enter case goods on a broader scale in the future for the U.S. market, the company will remain focused on its development, marketing and sales of upholstery including sectionals and modular groups that feature custom fabrics and leathers.
"It is just the dynamic of things that changed over the past few years," said Friesen, now chief revenue officer at Palliser. "Our focus as an upholstery company is primarily that."
"We are still supplying some of our retailers as part of our container business," he added of the wood segment, noting that, in addition to the Sarah Richardson product sold in Canada, there will continue to be case goods as part of its EQ3 line. "We are still supporting it where it makes sense, but as a standalone case goods business, we are not pursuing that."
"I wouldn't say we are completely exiting it forever, but new development has ceased for the U.S." Greenwald echoed.