London based Design Studio Duffy London has released, Civilization, a new range of uniquely hand-carved marble coffee and dining tables that pay homage to the great artistry and unparalleled beauty of three ancient temples and monuments hewn directly from the earth's surface.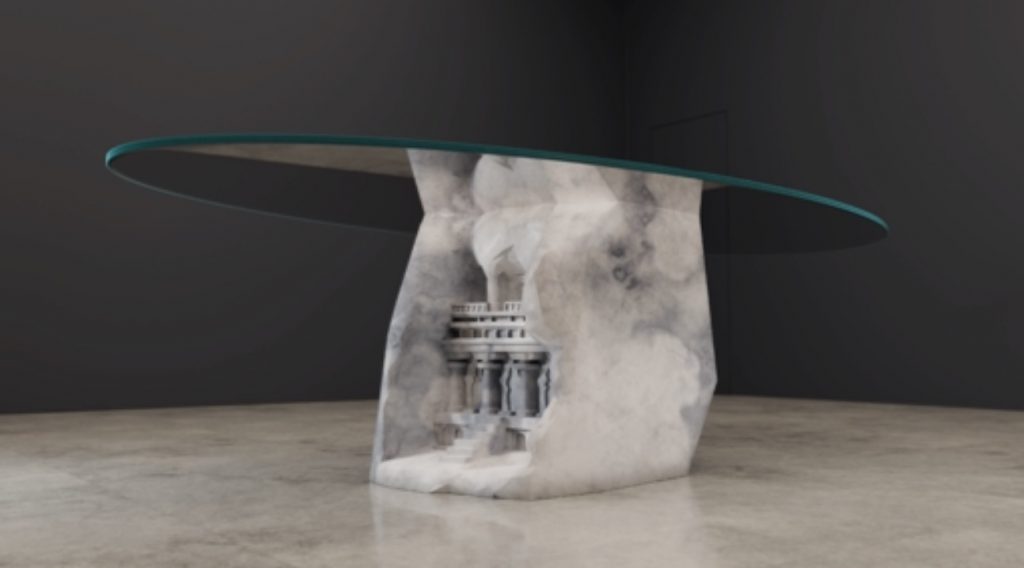 Our aim with the Civilisation tables is to use the medium of sculpture – one of the oldest art forms, working with traditional materials, tools and techniques – to reinterpret and reimagine these incredible structures, and to create modern furniture designs which pay homage to their outstanding beauty as well as the artistry and incredible skills of the craftsmen that first made them.
Every table in the limited edition range is made bespoke to order using a variety of types of coloured marble. The marble for every commission is hand-selected and then sculpted by hand using traditional techniques; an enduring tribute to the original historic Wonders, and a reminder of the power of sculpture as an art form.
The three tables in the Civilization collection are modelled on the Al-Kazneh Temple at Petra in Jordan, the Qasr-al-Farid tomb in Mada'in Saleh, Saudi Arabia, and the Kailasa Temple in Ellora Caves, Maharashtra, India; incredible man-made monuments and markers of Human endeavour that have survived the test of time. These original towering structures were carved directly from the rock of their surrounding landscapes with the most intricate skills by master craftspeople; each one a demonstration of Culture and Man's capabilities as both engineer and artist.
The sheer levels of skill and amount of technical processes that are required to manufacture each Civilization table ensure that each piece is completely unique and that no two pieces can ever be the same. Each table is formed from a beautiful marble base that is hand-picked and carved out of a solid, singular block of stone by master stonemasons over many months – using traditional techniques, and chipping away at the rock diligently and purposefully with chisels and hammer until the form reveals itself. Smaller, considered strokes using a range of specialist chisels, and more delicate rasps and riffler files help to add in the more finer points of detail, while sandpaper and emery cloths are used to smooth and polish the stone, accentuating the natural sheen of the marble.
Each table is then fitted with an elliptical 18mm polished-glass top, blending both ancient and modern materials with a modern design, and created to last for the Civilizations that come long after us.
The Civilization table is available to purchase now from DuffyLondon.com in two formats: dining table (£37,500) and coffee table. Each table is uniquely hand carved by master stonemasons and can be made fully bespoke to suit all requirements. A variety of marble colourings is offered including white and black, pure white, rose-veined green and red and orange.
Civilization is limited to just eleven editions.
https://duffylondon.com/collections/furniture/tables/civilization-table/