Michigan's loss is Pennsylvania's gain, or so it seems via an announcement Wednesday that Montgomery County workplace furniture and textile maker Knoll Inc. is relocating some out-of-state work and expanding its footprint in the commonwealth.
In its $6.8 million Pennsylvania expansion, Knoll has pledged to create at least 138 jobs and retain another 920 positions in the state over the next three years, Gov. Tom Wolf's office announced. For the project, the state plans to chip in $783,800 in incentives: a $425,000 Pennsylvania First grant, $276,000 in job creation tax credits and $82,800 in job training funds.
"Knoll's move and expansion plans demonstrate its continuing commitment to maintaining a presence in our commonwealth," Wolf said. "I'm pleased that Knoll has recognized the talent that our workforce has to offer and has chosen to continue its growth in Pennsylvania."
Specifically, the state said, Knoll, headquartered in Upper Hanover Township, is in the midst of a three-step relocation-and-expansion effort that started last year and has spilled into 2021. Those steps:
The company relocated its textile team from its headquarters to a new 57,000-square-foot facility on West Pumping Station Road in Richland Township, Bucks County.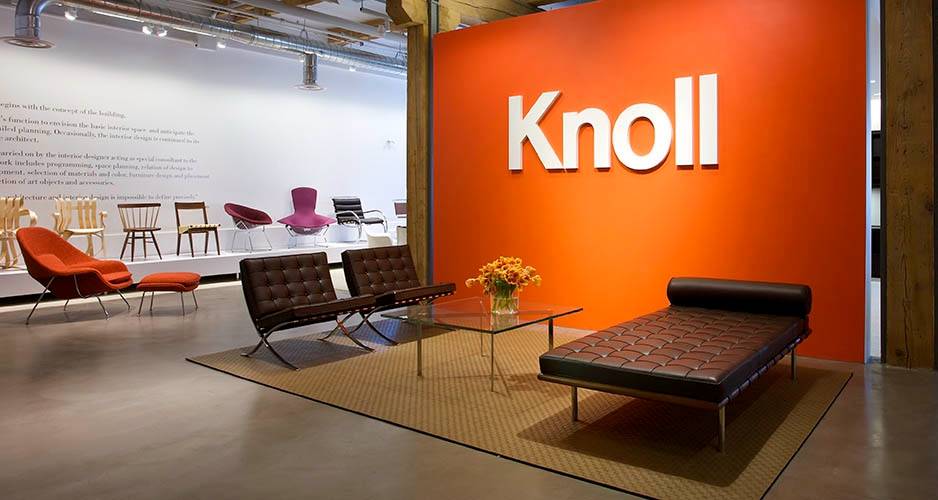 Knoll relocated a manufacturing line from its Michigan facility to its Upper Hanover plant. The company in January 2020 announced it would close its Grand Rapids, Michigan, manufacturing plant — affecting 180 hourly and 30 salaried jobs — as it consolidated its manufacturing footprint and optimized its North American supply chain.
Third, the state said, Knoll is relocating and expanding a "mixing center facility" in the Lehigh Valley. That move, Knoll spokesperson David Bright said, involves relocating the company's 293,000-square-foot distribution center on Daniels Drive in Upper Macungie Township to 8783 Congdon Hill Drive in Lower Macungie Township, where Knoll signed a lease for roughly 717,600 square feet.
"Since our founders established our first manufacturing operations in East Greenville during the 1940s, Knoll has been committed to this area and the skilled workforce it offers," said Chris Baldwin, chief operating officer and president of Knoll Workplace. "We are pleased to partner with Gov. Wolf and the Commonwealth of Pennsylvania to expand our presence once again."
In the state's funding proposal, the job creation tax credits offered to Knoll will only be distributed upon creation of the new jobs.
While state officials on Wednesday touted a Knoll expansion, the company has slimmed down during the course of the pandemic through two separate rounds of job cuts.
Most recently, in October, Knoll disclosed it planned to cut about 200 jobs and close five U.S. showrooms by the end of the first quarter, leading to annualized savings of about $23 million. Bright said those "associate reductions are across all areas," while the closing showrooms are in Seattle, Phoenix, Denver, Miami and Charlotte, North Carolina.
That followed a disclosure in May that Knoll planned to cut about 275 jobs by the end of the third quarter, resulting in annualized savings of about $24 million. Those cuts, Bright said, "occurred across the Knoll Constellation of workplace and residential brands."
Bright said Knoll now employs 3,080 people worldwide, including hundreds at its Upper Hanover headquarters and plant.
Knoll's stock closed at $15.85 on Tuesday. The company's shares dropped rapidly at the start of the pandemic, with the per-share price falling from around $26 Feb. 10 to about $9 March 16, but have been gradually recovering.
In its third quarter ending Sept. 30, Knoll's net sales decreased 13% to $309 million, with headwinds in the office market somewhat offset by e-commerce growth stemming from the work-from-home shift.
With corporate office demand suppressed, Knoll has been trimming costs in that business.
Those efforts include reducing the company's fixed manufacturing footprint by 20% as well as consolidating warehouse locations to cut costs and boost e-commerce capabilities.
Source:The Morning Call