What kitchen feature ranks on top in today's renovations? Storage space, according to the 2021 U.S. Houzz Kitchen Trends Study.
Houzz found that an overwhelming number of homeowners include cabinet upgrades or replacements in their renovations, and many of those include built-in specialty organizers, drawers and trays. Houzz's survey included more than 2,000 U.S. homeowners using Houzz who are in the midst of, are planning or recently completed a kitchen renovation.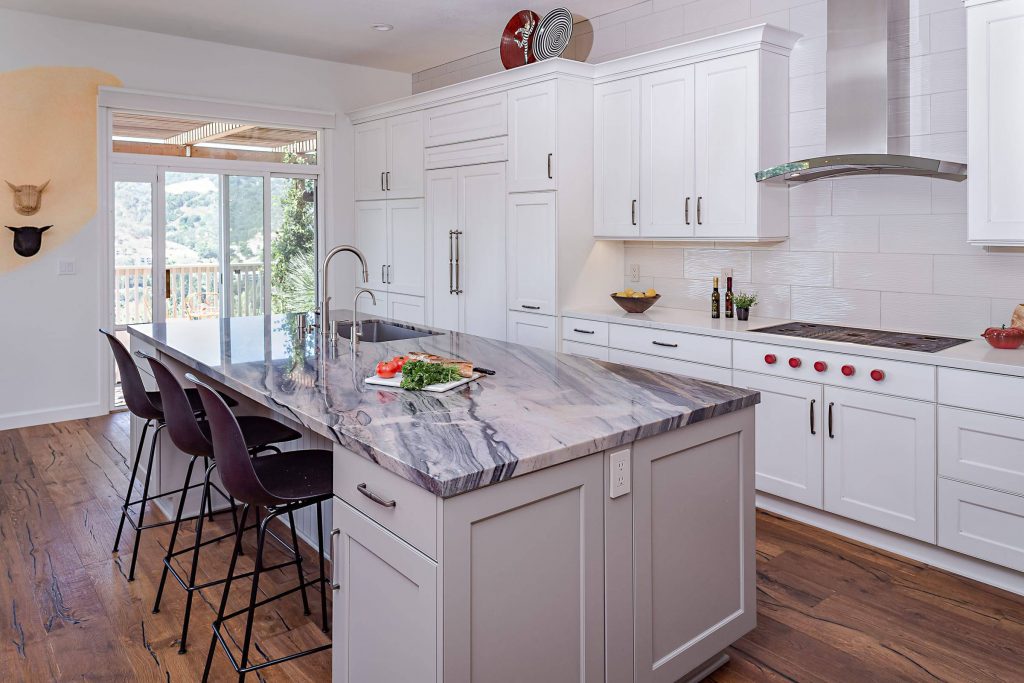 In addition, fewer homeowners plan for open-concept floor plans, while one in five intended to open the kitchen to the outdoors, the survey found.
But cabinets were key in renovations. Ninety-four percent of renovations included some work on cabinets, with most replacing all cabinets (63 percent). Of the one-third of homeowners who opt for partial cabinet upgrades, more than a quarter add at least some cabinets to their newly renovated kitchen (28%), nearly four times as many as the previous year, Houzz found. The percentage of homeowners adding or upgrading a pantry space also grew, with nearly half of homeowners upgrading pantry cabinets and one in eight adding a walk-in pantry (46% and 13%, respectively), both up three percentage points from the previous year.
However, not all major features saw an increase in demand: upgrades to light fixtures and appliances slipped a bit last year (74% and 51% in 2020, versus 79% and 56% in 2019, respectively).
The median spend on major kitchen remodels, in which all of the cabinets and appliances are replaced, is $35,000, whereas median spend for all other minor remodels is $8,000. Homeowners renovating their kitchens are overwhelmingly choosing custom or semicustom cabinetry (76%). Shaker-style and white cabinet doors continue to be the leading choices despite having fallen in favor by five percentage points each since last year (57% and 41% in 2020, versus 63% and 46% in 2019, respectively).
Often included in renovated kitchen cabinets, built-in organizers, drawers and trays help homeowners keep their kitchen accessories in order. The most popular organizers are for cookie sheets and spices (48% and 39%, respectively), while the most common specialty drawers are pullout waste or recycling drawers (60%), the survey found. More than a third of kitchen renovations include specialty shelving trays, such as revolving trays, otherwise known as Lazy Susans, and pullout or swing-out trays (38% and 34%, respectively), making deep or hard-to-reach spaces more accessible. The popularity of specialty organizers, drawers and trays has remained fairly stable since last year, although there has been a slight dip in popularity for specialty pullout waste or recycling drawers, revolving trays and cookie sheet organizers (each down a few percentage points since last year), Marine Sargsyan, Houzz senior economist, told Designers Today.
"Storage has really come into focus as people have spent more time at home during the pandemic," said Liza Hausman, Houzz vice president of industry marketing. "We're seeing an increase in the amount of cabinetry added in renovations, and more homeowners are reaching out to professionals on Houzz for help making their kitchens work better, most often within the same layout and square footage."
More than four in five homeowners hire professional help for their kitchen renovations (85%), including general contractors, cabinetmakers and kitchen designers (49%, 27% and 19%, respectively).
Houzz's kitchen trends study also found that the number of renovating homeowners creating an open-concept floor plan by opening up their kitchen to other interior spaces has dropped dramatically since 2019 (43% in 2021 versus 53% in 2019). And one in five homeowners opens the kitchen up to outdoor space (22%).
More appliances are also being placed in kitchen islands. Almost two-thirds of renovated kitchens feature an island (63%) and more than half of those newly added or upgraded islands feature a new appliance (55%), up three percentage points from the previous year. Among these islands, more than a third include a dishwasher and/or microwave (34% and 33%, respectively).
Ceramic or porcelain tile has again become the number one choice for flooring (24% and 23%, respectively), after ceding the top spot for one year to hardwood flooring, which fell from 29% to 23%. Vinyl, on the other hand, continues to grow in popularity, with 19 percent of renovators choosing vinyl or resilient flooring in 2020, up five percentage points from the previous year, and now significantly more popular than engineered wood (14%).
Renovated kitchens continue to feature neutral tones of gray, white and beige on wall surfaces (28%, 26% and 21%, respectively), Houzz found. That said, some homeowners are going for more colorful looks, including multicolored backsplashes, black stainless appliances and blue walls (18%, 10% and 7%, respectively).
High-tech features appear in more than half of upgraded faucets and nearly one-third of upgraded appliances (53% and 29%, respectively). Popularity for appliances with wireless controls has grown by five percentage points since last year (19% in 2020 versus 14% in 2019).
The "U.S. Kitchen Trends Study" is an online survey fielded to U.S. Houzz users between June and July 2020.
Sargsyan added that kitchens are typically 200 square feet or larger based on the data collected from renovating homeowners on Houzz.
Source:HFN